ALLES AUS LIEBE – 40 JAHRE DIE TOTEN HOSEN
Special Guest: Madsen
Doors 4.30 pm, Show 6.30 pm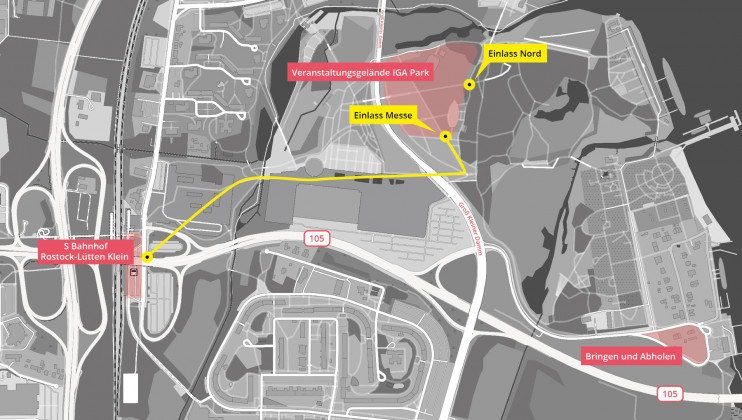 Overview (Click = Zoom)
Tickets
It probably goes without saying, but each visitor needs her/his own valid ticket to attend the concert. The legal age regulations apply; parental accompaniment may be obligatory (or a so-called "Muttizettel" / "Erziehungsbeauftragung", delegating the parental mandate to someone else). Unfortunately, children under 6 years of age are not admitted to our concerts. For children over 6 years of age (or rather "for" their parents in charge of them) we always recommend to use so-called Mickey Mouse Ears during the concerts.
Tickets that entitle you to attend the concerts are from KaufMich/DieTotenHosen or CTS/Eventim – please keep away from platforms like Viagogo, Ticketbande, Ticketrocket and the like. These sites are NOT authorised to sell tickets and are therefore not supplied by us with original tickets. Those tickets can only be forgeries or otherwise invalid, these do not give you the right to attend the event (means, you have to stay outside). In addition, there is a risk that you will not get your money back from the supplier/seller for these overpriced tickets.
The tickets lose their validity when you leave the event grounds (apart from the public transport thing, see above) – and are only valid for the specific date printed on them. Additionally and always, the general terms and conditions of Loft Concerts apply.
Means of transport
Arrival by public transport
The IGA Park is very well connected to the public transport network. We cooperate with the VVW: your tickets are valid for three hours before and two hours after the event as a ticket for the entire VVW network.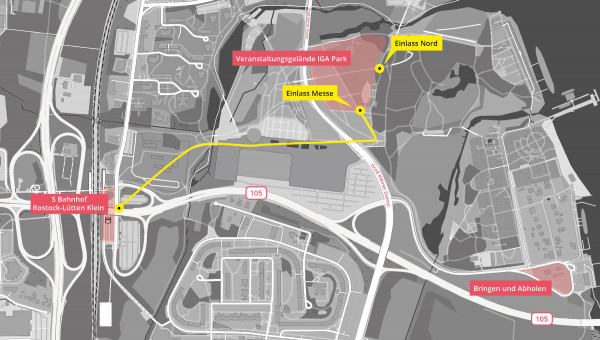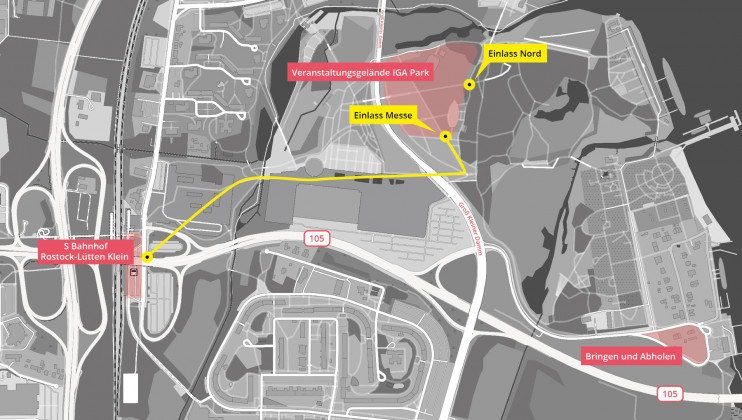 It is best to use the Rostock-Lütten Klein S-Bahn station for your journey. From there, the IGA Park can be reached on foot via the exhibition grounds in just a few minutes. Further connections are offered by the bus lines 21, 45, 49, X41, 38, 39, the city bus lines 31, 35, 38, 39, X41, 45 and 49, the regional bus lines 119 and 122, which arrive and depart at the Lütten Klein stop. Tram lines 1 and 5 stop in the adjacent district of Lütten Klein at the St.-Petersburger-Straße and Lütten Klein Zentrum stops. The IGA grounds are a 20-minute walk from the tram stops.
Timetable information, connections and current disruptions can be found at verkehrsverbund-warnow.de.
Arrival by train
Travel to Rostock main station and from there take the S1, S2 or S3 to the S-Bahn station Lütten Klein, which is in the immediate vicinity of the event site.
Arrival by car
Please leave your car and come by public transport! There is only a very small number of paid parking spaces near the event site. If you cannot avoid travelling by car, please take note of any road closures around the event site and drive around the site as far as possible. Form car pools via Mitfahrzentrale, Blablacar or Clickapoint.
P+R
Please use the P+R parking areas around the event site: Groß Schwaßer Weg, Flensburger Straße, Werft, Strand West, Dierkower Alle, Dierkower Kreuz, Theodor-Heuss-Straße, Katt-un-Mus-Weg and Hauptbahnhof Süd. Limited parking is available on site for persons with disabilities, distributed among the parking spaces in the immediate vicinity of the event area.
Drop-off & pick-up
A turning loop is available in the Schmarl Dorf area for drop off and pick up.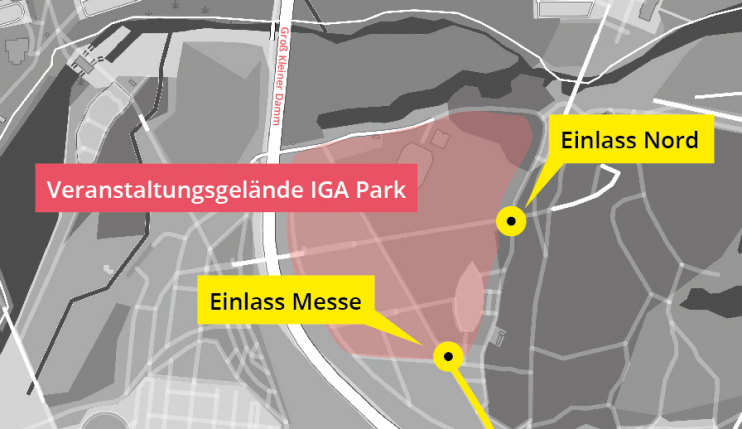 Event Area (Click = Zoom)
What's allowed?
NOT allowed to bring onto the site are …
Food and beverages of all kinds;
Glass bottles and glasses of all kinds (e.g. wine bottles, schnapps bottles, wine glasses);
Bags or backpacks larger than DIN A4 (approx. 20x30cm) in at least one surface area;
filled tetra-paks / drinking bottles;
Cans, canisters, drinking backpacks & plastic bottles;
Firearms, cutting weapons, stabbing weapons, other weapons of all kinds;
saws, axes, hatchets and similar tools;
Fireworks, sparklers, star throwers & other pyrotechnic objects (including "Bengal fires");
Chairs, seating furniture & seating (e.g. polystyrene cubes);
Recording equipment: professional sound, photo and video equipment;
Animals of any kind (with the exception of assistance dogs);
bulky objects (e.g. flagpoles, selfie sticks, large umbrellas, motorbike helmets).
But you're free to bring …
a belt/hip bag or a gym/cloth bag, up to DIN A4 (approx. 20x30cm) in all of the surface areas;
Liquid hygiene and health articles up to 100ml each (max. 2 pieces per person) in suitable plastic containers;
Necessary medication and medical aids (a doctor's certificate of necessity ensures that you are allowed to bring these onto the event site).
All people should feel equally comfortable and welcome at the concert. Therefore, we stand for open, tolerant and respectful interaction with each other. We advocate equality, diversity and justice without exception and show no tolerance towards any form of discrimination and discriminatory attitudes. We ask all visitors for basic consideration and civil courage for a safe concert.
Security
The event grounds are -obviously- not a lawless space. The concert has been planned in cooperation with the responsible security authorities and will be supervised by the police, the fire brigade and an ambulance service. In addition, security personnel will be on duty to make the concert safe and to ensure that you and everyone involved is able to have a good time. Please contact our security staff at any time in case of emergency – they know what to do and will help you immediately.
Our security staff will also contact the police if necessary. If it is a medical emergency, the paramedics will be alerted on site by our security staff.
Domiciliary rights
The organiser and his or her authorised third parties have the right of domicile during the entire concert. The instructions of the organiser's security service must be followed.
People wearing clothing with inhuman, homophobic, radical right-wing or any other discriminatory background, or carrying racist, xenophobic and/or radical propaganda material, will not be admitted to the premises and the ticket price will not be refunded. People who attract attention on any of those grounds, due to the above-mentioned statements or behaviour, will be immediately expelled from the event grounds without refund of the ticket price.
Miscellaneous
Each festival guest assumes personal liability for any damage caused by him/her. It is illegal to obtain and consume reportable objects and substances of any kind (drugs) on the event grounds. Laser pointers are prohibited on the entire event site. The operation of unmanned aerial systems (drones and other remote-controlled flying models) is strictly prohibited on the entire event site. An exception to this ban is only possible for the security authorities themselves and for the organiser in consultation with the responsible authorities.
Children under 6 years of age will not be admitted to the concert, even if accompanied!
Accessibility
Limited parking is available on site for people with disabilities, distributed among the parking spaces in the immediate vicinity of the event area.
We suggest using the parking spaces at the "Messe" and the entrance called "Eingang Messe". This is the best way to get from the disabled parking space to the entrance.
A "B" in your severely disabled pass entitles you to bring an accompanying person free of charge. Just come to the entrance together with your companion and show your ticket and your disabled pass.
Wheelchair tickets are only available in limited numbers. Please send your full address and a copy of your disabled pass to service@kaufmich.net.
There is a wheelchair platform on the event site. Depending on how busy it is, you can also stay there if you don't have a wheelchair but do have a severely disabled pass. There are a few seats available on the platform for this purpose. Depending on the capacity, it is possible to reserve a seat here in advance. Please send a short email to barrierefrei@loft.de with a copy of your severely disabled pass and whether you are bringing an accompanying person.
If you need medication or medical aids, please bring a doctor's certificate so that you can take them with you onto the grounds.
If you have any questions or comments about accessibility, please feel free to contact us at barrierefrei@loft.de.
COVID-19 (Coronavirus)
Please check for latest updates about the current Corona measures / hot spot regulations at regierung-mv.de/corona/. More detailed information will follow here shortly before the event.
… from Die Toten Hosen & Loft Concerts. For being interested in our events, and in music in general.
Also, obviously: ENJOY THE CONCERT & HAVE FUN! <3
Latest update: April 16th, 2022