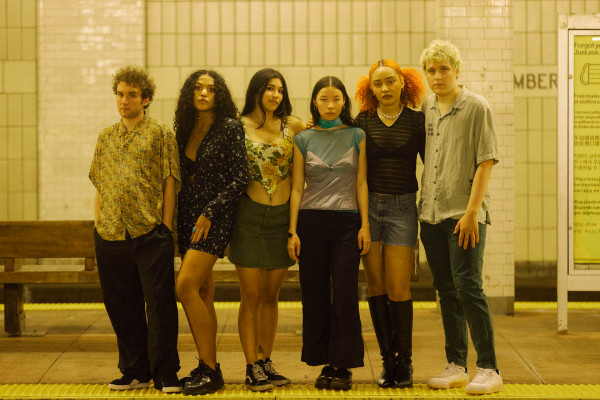 Aufgrund der anhaltenden Gesamtsituation (und der damit verbundenen Auflagen bzw. Maßnahmen) kann/konnte das Konzert leider nicht wie ursprünglich geplant stattfinden. Wir freuen uns jedoch, einen Nachholtermin gefunden zu haben! Bereits gekaufte Tickets behalten ihre Gültigkeit.
"Hi friends!! We are announcing a string of headline dates in the United States with guest Sylo (!) and our rescheduled Europe dates for May. While we were sadly unable to reschedule the shows in Dublin, Glasgow, and Brussels, ticket holders will be refunded and we are working to visit these cities ASAP. Tickets previously purchased to all other shows will be honored at the new dates. We are so looking forward to meeting you all, dancing with you, and celebrating life and music. This is the ultimate privilege for us, we hope you will join us."
Seit ihrem 2018er-Debüt "Heatwave" erklimmt das Indie-Pop-Sextett (bestehend aus Sofia D'Angelo, Julian Kaufman, Charlie Kilgore, Layla Ku, Emma Lee and Jamee Lockard) die Karriereleiter des Musikbusiness Schritt für Schritt. Was als einmaliges Projekt begann, legte den Grundstein für etwas, wovon Michelle nicht zu träumen vermochten. Nun ist es Realität: In der New Yorker Szene sind sie gefeierte Newcomer – der Geheimtipp der New Yorker Teen-Music-Szene. Ihre sonnigen Sommer-Hymnen präsentieren sie in Form von verträumten Popmelodien mit ein wenig Jazz und R&B.Dabei zeigen die Musiker*innen trotz ihres jungen Alters, wie sehr sie mit der Großstadt New York verbunden sind. In der Musik der Band schwingt immer eine gehörige Portion der Heimatstadt mit."I feel a very strong connection between my keyboards and the city. I have a keyboard called the Juno Six and to me that just sounds like New York City. I feel like I'm connecting with New York because the synth is so strongly grounded there", so Julian Kaufman über sein Instrument. Darüber hinaus verfolgen Michelle mit ihrem Schaffen eine deutliche Botschaft: "We want to foster a really inclusive community that is free of hate and calls out injustices. We just want to share our ideals with our listeners and spread positivity", so Jamee Lockard. Tiefgründige Lyrics verpackt das Kollektiv seither in beschwingte Melodien, die einen zum Tanzen auffordern und das Leben ein wenig unbeschwerter machen. Zusammen mit der neuen Single "Syncopate" wurde nun die "After Dinner We Talk Dreams Europe Tour 2022" angekündigt, im Rahmen derer die Band auch ein exklusives Konzert in Berlin spielen wird.