Fuck Art, Let's Dance! + Kalipo - 13.06.2013 - Escobar Sun Deck - Badeschiff Berlin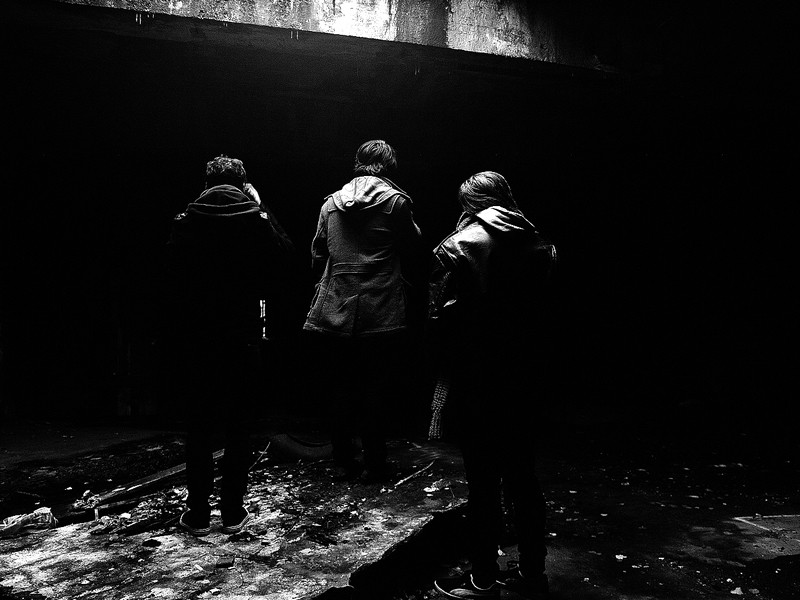 Fuck Art, Let's Dance! + Kalipo
Fuck Art, Let's Dance! sind impulsive Melancholie, Zappeltunes und White Boys in Bestform. Romeo Sfendules (Gitarre) und Tim Hansen (Schlagzeug) agieren als hoch motiviertes und brillantes Team um Talent und Sängerfront Nico Cham: dynamisch, inspiriert und verdammt jung.

Fuck Art, Let's Dance! gelingt das scheinbar Utopische, ihre heftig elektronischen Beats treiben die atmosphärischen Gitarren geradewegs in die offenen Herzen ihrer tanzenden Fans. "Tous pour un, un pour tous", Ekstase und Neonlicht haben MTV, NME und Audiolith überzeugt: Diese Hamburger Jungs spielen "Jerky 2-bit dance pop for indie geeks with colourful knit-wear! (Jamie Hodgson, NME). Als Support für Who Made Who, We Have Band oder Ratatat lieferten sie ebenso brillant ab,wie den Remix "Headliner der Herzen" für die Band Saalschutz oder auf dem King Kong Kicks Vol. 3 "Encore". Nach 3 Jahren Bandbestehen starten sie ihr erstes Single Release bei Audiolith International "The Conqueror" und folgen damit Heaven 17, Whitest Boy Alive und Bloc Party in den Fahrstuhl zum Olymp.
--
Kalipo. Formerly known as Das Basslaster and Ja!kob. Founding member, producer and musical mastermind of one of Germanys most successful Indie/ElectroPunk outfits today – Frittenbude. A well-respected producer who has been at the controls for projects like Ira Atari and Pandora's Box plus crafted a stream of remixes for several artists throughout the last years.

A musical jack of all trades who started out producing HipHop-beats at the very early age of 13 and turned his head into electronic music later, heavily influenced by electronic music acts like Dopplereffekt and the highly popular sound of Vienna at the fin de siècle.

Details of the frenzied journey and storming success that followed have already been told in countless interviews, seen in video features or experienced live in front of x-amounts of fans, playing festivals and jam-packed club shows with Frittenbude.

But in the meantime Jakob started to develop a new analogue sound and carved out his own musical niche clearly referring to styles known as SlowHouse, (Neo)Cosmic and DeepHouse mostly built on a foundation of epic synth-lines, warm, embracing melodies and soulful samples for the small hours, the joyful and glorious moments of ecstasy at the very end of the night when only a few happy people are crowding dancefloor, refusing to go home but floating and drifting along instead, following the vibe of the music into deeper realms filled with passion and overwhelming emotions. Kalipo.

Having introduced this sound pretty different from his previous works to the world with undercover appearances on both volumes of the limited Stiff Little Spinners vinyl series and a remix for the Indie-band Fuck Art, Let's Dance while developing a deeper, ever growing love for what started out as sidekick project now is the time for Jakob Häglsperger to leave his former solo-monikers alone and fully focus on Kalipo, exploring the warm depths of raw analogue club sounds, spreading love and joy amongst musical connaisseurs and punters alike.

Rumors have it that Kalipo is working on a 100% analogue live set these days with a set-up of vintage synthesizers and classic sequencers on stage that is meant to be accompanied by specific visuals, serving a full-on artistic concept in between electronic concert and club-set. Not to mention the fact that a few long-time running electronic labels already have been knocking at the door, keen to take Kalipo under their wings.

No matter what the future will bring, Kalipo will be a part of it.