ALLES AUS LIEBE – 40 JAHRE DIE TOTEN HOSEN
The official address of Flughafen Tempelhof is
Platz der Luftbrücke 5

12101 Berlin
Watch out: This is NOT the address of the entrances to the event area, but should only serve as a rough orientation instead!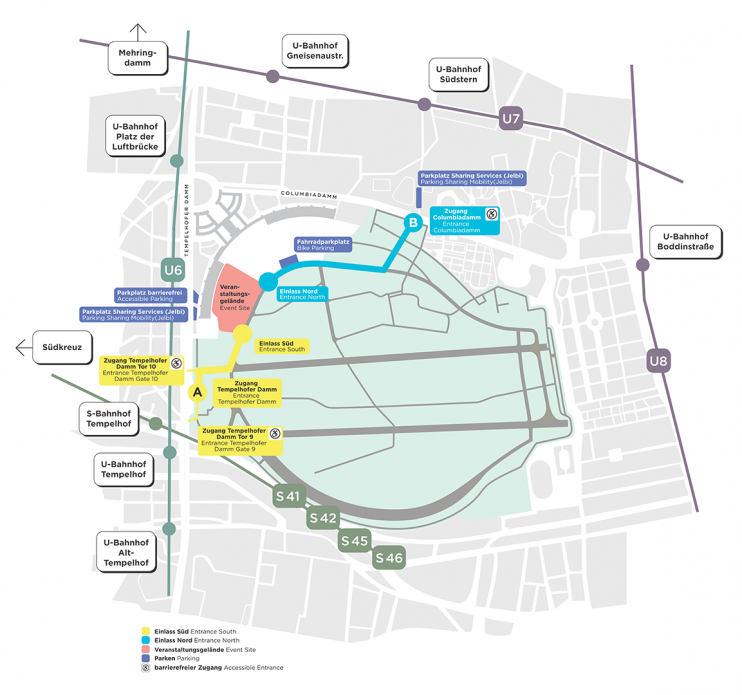 (Click = Zoom)
Entry
In the run-up to the events, you will automatically receive an information email from the ticket provider including individualised arrival information, which (among other things) assigns you to one of the two entrance gates. Please make yourself familiar with this in time – the use of the respective assigned entrance gate leads to reduced waiting times for all visitors and to overall more stress-free conditions. Don't worry, "inside" everything will run together again of course, it's only about a relaxed entrance procedure.
Admission to the event site will be
👉 in the north via Columbiadamm (52°28'57.3″N, 13°24'20.6″E),
👉 in the south via Tempelhofer Damm (52°28'24.1″N 13°23'11.0″E).
We advise to use public transport to get there and back! Due to its central city location, Flughafen Tempelhof (Tempelhof Airport) is very well connected – arriving by bike or on foot is also possible without any problems.
In order to be able to guarantee a smooth admission, we ask you to arrive early/timely – making use of the entire time period between "doors" and "show" ideally.
For further information see also under Accessibility.
Means of transport
Sustainable travels
👉 by public transport: The concert ticket is valid from 2 hours before doors time and until 3.00 am the following day in the Berlin ABC fare zone for arrival & departure. The following lines and stations are suitable:
U-Bahn (Underground) U6, U7, U8 (Platz der Luftbrücke, Gneisenaustraße, Boddinstraße, Mehringdamm, Tempelhof);
S-Bahn (Suburban trains) S41, 42, 45, 46 (Südkreuz, Tempelhof);
Bus M43 (Platz der Luftbrücke, Columbiadamm/Friesenstraße, Golßener Straße, Friedhöfe).
At peak times, stations may be closed at short notice – please bear in mind that the shortest route to the event grounds is not always the fastest! Timetables and public transport updates are available at bvg.de. For Android devices we recommend "Öffi" for navigation.
👉 by bike: You will find plenty of free bicycle parking spaces near both entrances. Further details will follow here at a later date.
👉 by E-Scooter / Sharing Bike: If you arrive using an e-scooter or via bikesharing, you can easily park these

at one of the two Jelbi points near the respective entrances: Lilienthalstraße, corner of Columbiadamm (near the NORD entrance) -or- Tempelhofer Damm 45, opposite Paradestraße (near SOUTH entrance). All other areas are closed for parking.
Travelling by car
There are no (zero!) parking spaces available near the event site. There really aren't. If travelling by car is really unavoidable, we advise you to "park & ride" and avoid the general Tempelhof Airport area: parking spaces are available at the Messegelände in Masurenallee, at Hammarskjöldplatz, and in Jafféstraße – some of which are subject to a charge! From there you can take the S-Bahn (see above) to Tempelhof.
Travelling from/to far away
If you arrive by train, ideally plan your journey to Südkreuz station – from there it's only a short walk to Tempelhof Airport. From Berlin main/central station, we recommend taking the S-Bahn in the Friedrichstraße-direction and from there the U6 to Platz der Luftbrücke (or see above).
If you are seriously travelling by plane, … please donate an obscenely high sum to atmosfair.de to compensate emissions, and then either take bus X7 to Rudow and change there to the U7 to Südstern. Alternatively, take the S9 to Friedrichstraße and then the U6 to Platz der Luftbrücke.
You can find a selection of hotels on berlin.de and zillions of other tourism portals – you'll be able to plan your stay on your own. 😎 Please note: camping is not permitted on the event grounds. Long-term visitors to Berlin are kindly requested to take a room or arrange accommodation on their own.
Tickets
It probably goes without saying, but each visitor needs her/his own valid ticket to attend the concert. The legal age regulations apply; parental accompaniment may be obligatory (or a so-called "Muttizettel" / "Erziehungsbeauftragung", delegating the parental mandate to someone else). Unfortunately, children under 6 years of age are not admitted to our concerts. For children over 6 years of age (or rather "for" their parents in charge of them) we always recommend to use so-called Mickey Mouse Ears during the concerts.
Please also remember to bring your ID, as tickets are personalised!
Tickets that entitle you to attend the concerts are from KaufMich/DieTotenHosen or CTS/Eventim – please keep away from platforms like Viagogo, Ticketbande, Ticketrocket and the like. These sites are NOT authorised to sell tickets and are therefore not supplied by us with original tickets. Those tickets can only be forgeries or otherwise invalid, these do not give you the right to attend the event (means, you have to stay outside). In addition, there is a risk that you will not get your money back from the supplier/seller for these overpriced tickets.
The tickets lose their validity when you leave the event grounds (apart from the public transport thing, see above) – and are only valid for the specific date printed on them. Additionally and always, the general terms and conditions of Loft Concerts apply.
Departure
From the south exit, a slightly higher volume of traffic is expected at S-/U-Tempelhof station – there may be brief closures. We therefore recommend using the Südkreuz station from there. At the north exit (in the direction of Columbiadamm), in general shorter waiting times are to be expected!
(From the bicycle parking area, you will have to leave the area to the north, in the direction of the Columbiadamm exit – this is for safety reasons).
In general, there are several underground and suburban railway lines within walking distance of Tempelhof Airport. As a rule of thumb, the nearest stations will be the busiest. So a few minutes more on foot will significantly reduce waiting times afterwards. Early planning also leads to greater relief both for the city traffic and for the nerves.
Please avoid unnecessary noise – no matter where, how & when you leave. The residents tolerate the concerts, so please let us also respect their need for night rest!
What's allowed?
NOT allowed to bring onto the site are …
Food and beverages of all kinds (for exceptions see below!);
Bags or backpacks larger than approx. 20 x 20 x 30 cm (= DIN A4 in at least one surface area);
Glasses (glass bottles, wine bottles, wine glasses, schnapps bottles, ..), cans, canisters, drinking backpacks, …;
Firearms, cutting weapons, stabbing weapons, other weapons of all kinds;
saws, axes, hatchets and similar tools;
Fireworks, sparklers, star throwers & other pyrotechnic objects (including "Bengal fires");
Chairs, seating furniture & seating (e.g. polystyrene cubes);
Recording equipment: professional sound, photo and video equipment;
Animals of any kind (with the exception of assistance dogs);
bulky objects (e.g. flagpoles, selfie sticks, large umbrellas, motorbike helmets);
Children under the age of 6 (even if accompanied by an adult).
ATTENTION
Storage of larger luggage will be possible for a fee – bag drop-off points are available in front of/next to both entrances, open during the respective entrance/opening times.
Please note, however, that the capacities here are limited, therefore an acceptance of your luggage cannot be guaranteed. Please only bring things with you that you want to & are allowed to take with you into the event area! It's easiest for everyone. :-)
(Of course, there are also rubbish bins at the Tempelhofer Feld area, i.e. before the entrance/gateways to the concert – but the same principle applies: it's best if you don't have to dispose of any rubbish there either).
You're free to bring …
one 0.5l-TetraPak or one 0.5l-PET-bottle (per person) with non-alcoholic content only (water, lemonade, coffee, etc);
a belt/hip bag or a gym/cloth bag, up to approx. 20 x 20 x 30 cm (= DIN A4 in not more than two of the surface areas);
Liquid hygiene and health articles up to 100ml each (max. 2 pieces per person) in suitable plastic containers.
Food & beverages
There will be a wide range of food (also non-vegetarian/vegan!) and drinks on the event grounds – in addition, drinking water dispensers will be available at many places!
ATTENTION: unfortunately, no card payment is possible for food & drinks on the grounds! Please remember to bring some cash with you, just in case!
There will be ATMs (2 in total) though!
BUT DON'T WORRY: the merch booths (!) will be able to accept card payment! 🤘
All people should feel equally comfortable and welcome at the concert. Therefore, we stand for open, tolerant and respectful interaction with each other. We advocate equality, diversity and justice without exception and show no tolerance towards any form of discrimination and discriminatory attitudes. We ask all visitors for basic consideration and civil courage for a safe concert.
Security
The event grounds are -obviously- not a lawless space. The concert has been planned in cooperation with the responsible security authorities and will be supervised by the police, the fire brigade and an ambulance service. In addition, security personnel will be on duty to make the concert safe and to ensure that you and everyone involved is able to have a good time. Please contact our security staff at any time in case of emergency – they know what to do and will help you immediately.
Our security staff will also contact the police if necessary. If it is a medical emergency, the paramedics will be alerted on site by our security staff.
Domiciliary rights
The organiser and his or her authorised third parties have the right of domicile during the entire concert. The instructions of the organiser's security service must be followed.
People wearing clothing with inhuman, homophobic, radical right-wing or any other discriminatory background, or carrying racist, xenophobic and/or radical propaganda material, will not be admitted to the premises and the ticket price will not be refunded. People who attract attention on any of those grounds, due to the above-mentioned statements or behaviour, will be immediately expelled from the event grounds without refund of the ticket price.
Miscellaneous
Each festival guest assumes personal liability for any damage caused by him/her. It is illegal to obtain and consume reportable objects and substances of any kind (drugs) on the event grounds. Laser pointers are prohibited on the entire event site. The operation of unmanned aerial systems (drones and other remote-controlled flying models) is strictly prohibited on the entire event site. An exception to this ban is only possible for the security authorities themselves and for the organiser in consultation with the responsible authorities.
Which way to Panama?
Which way to PANAMA?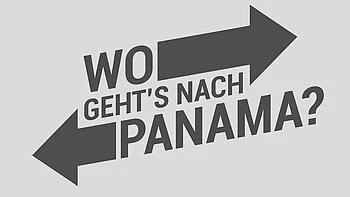 It is very important to us that every person at the festival feels welcome, comfortable, and safe. With this in mind, we're part of the "Which Way To Panama?" project, launched in 2017 – striving for the continual awareness of all persons affected and the advancement of social empathy and pursues the goal of creating a safe space for everyone equally.
👉 "Which way to Panama?" (or simply "Panama") is the phrase you can say to staff memmbers, to get help in case of an emergency.
Using this sentence you can address staff members for every kind of problem: Did you see something strange? Do you feel uncomfortable, cornered, or harassed? The crowd is getting too much for you? Were you (verbally or physically) assaulted?
This includes everything where help may be needed, even beyond sexual harassment (aggressiveness, fighting, etc.) – the sentence ensures that the person is quickly removed from the situation without any further questions, and then a joint decision is made on how best to help the person.
The following groups of people understand "Which way to Panama?": Bar staff, security staff), police, paramedics and all other crew members with a wristband with PANAMA written on it. The crew will offer their help without further questions or comments and will take you or the person seeking help to a protected environment.
If you are already on your way home and feel unsafe, you can call the number of the Heimwegtelefon anytime: 030 1207 4182.
Accessibility
It is very important to us that all visitors feel comfortable and have a good time at the event(s). We have therefore compiled some information for people with disabilities below.
Arrival
👉 by public transport

barrier-free S- & U-Bahn stations with lift:
S- & U-Bahnhof Tempelhof (approx. 500m to entry gate SOUTH / approx. 900m to entry gate NORTH)
Bus lines:
M43 – Stops: Golßener Str. or Friedhöfe Columbiadamm (approx. 1500m to entry gate NORTH / approx. 1900m to entry gate SOUTH)
248 – Stop Columbiadamm / Friesenstr. (approx. 1.500m to entry gate NORTH)
Up-to-date information about disruptions in BVG services, defective lifts, etc. is provided on bvg.de. In addition, Verkehrsverbund Berlin Brandenburg offers an escort service for people with walking and visual impairments.
👉 by car / parking
Access by car is possible for people with disabilities. Holders of the parking permit for people with disabilities in the European Union ("Blue Parking Permit"), as well as the severely disabled person's permit with mark B, are entitled to use the barrier-free car park. Due to limited capacity, we can only guarantee a parking space after prior reservation (at least 48 hours before the event) via barrierefrei@loft.de. Please send us your registration number, full name and mobile phone number.
Access to the barrier-free car park is possible via Tempelhofer Damm 45, 12101 Berlin, opposite Paradestr, also signposted on site (coordinates 52°28'41.5″N 13°23'10.6″E) From the car park to the SOUTH entry gate the distance is approx. 600-800m and to the NORTH entry gate approx. 1000- 1200m. At the car park there is a mobile toilet suitable for disabled persons.
Admission & accompanying persons
Holders of a "severely disabled person"'s pass (with the symbol B) may bring an accompanying person free of charge. The disabled pass must be shown at the entrance. Visitors who wish to bring medication or medical aids of any kind onto the event grounds are requested to bring appropriate proof of necessity. Assistance dogs may of course be brought along.
There is a barrier-free entrance for people with disabilities at both entrances.
Service for guests with disabilities ("Team Barrierefrei Feiern")
There will be a trained service team on site that our guests with disabilities can contact if they have any questions or difficulties. The inclusive team of the "Initiative Barrierefrei Feiern" can be reached by phone or via WhatsApp (01573 879 5555) during the entire concert. A WhatsApp group also provides information about relevant events.
Barrier-free toilets
There are accessible portable toilets at both entrances. There are water-flushed, barrier-free toilets on the grounds. These are specially marked and equipped with hand basins, disinfectant and lighting. Should you need a place of refuge at short notice or an undisturbed place to seek medical attention, please contact the inclusion team or the medical service.
Raised platforms
In order to guarantee all visitors a lasting concert experience with good visibility and acoustics, there are 2 raised platforms on the event site. These can be used by wheelchair users with a "Rolli-Ticket" and their accompanying persons. Unfortunately, due to the current capacity, we are no longer able to make a fixed reservation.
We are also trying to create more seating options on site. We kindly ask people with a walking disability, a severely disabled pass or visitors of small stature to contact the Barrierefrei Feiern team on site.
Barrier-free portable toilets are located directly next to the platforms.
Guests with sensory impairments
Unfortunately, we are unable to offer an escort or communication service for visitors with learning and reading difficulties as well as blind and deaf guests. If they have any questions or difficulties, they can of course contact our inclusion team.
For questions and suggestions, please contact us at barrierefrei@loft.de.
COVID-19 (Coronavirus)
Currently there are no special restrictions or participation rules (2G, 3G, etc.) due to the Corona pandemic. Should any adjustments become necessary due to official orders in the future, we will inform you here as quickly as possible.
However, we suggest that you continue to (voluntarily) wear a medical mask when attending concerts – and test yourself for Covid-19 in advance! If you feel ill, please stay at home – but, obviously, that has always been the case (and is a rule to be applied not only at concerts). Recklessness is stupid, and even without an "obligation", caution can still be exercised in dealing with a pandemic – the Corona thing isn't over, even if the legal framework has changed.
Responsibility / mission statements
Please be nice, cool and relaxed when dealing with each other – take care of yourselves and all your fellow human beings;
If you observe or experience harassment, discrimination or sexual assault of any kind, please contact our security staff;
Please use public transport (the BVG ticket is included in the concert ticket, see above!) or the bicycle to get to and from the concert;
please leave everything at home that you don't absolutely need for a concert (and if you still want to get rid of chewing gum paper, handkerchiefs, cigarette butts etc. on the premises, please use the available rubbish bins!);
visit our friends from the "Cradle to Cradle" NGO at their information booth;
be (stay!) open for new things (not only) in the gastronomic domain;
have fun & enjoy the concert (but that's as self-evident as "Nazis raus!", of course).
Latest update: August 19th, 2022
… from Die Toten Hosen & Loft Concerts. For being interested in our events, and in music in general.
Also, obviously: ENJOY THE CONCERT & HAVE FUN! <3